09 gen 2010
Qui sotto è possibile scaricare il PDF del libro Angel_F Diario di una intelligenza artificiale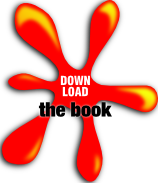 Qui l'immagine della copertina:
Il libro di Angel_F è pubblicato in licenza Creative Commons:

Angel_F. Diario di un Intelligenza Artificiale by Salvatore Iaconesi e Oriana Persico is licensed under a Creative Commons Attribuzione-Non commerciale-Non opere derivate 2.5 Italia License.
Permissions beyond the scope of this license may be available at http:/
/www.artisopensource.net/.